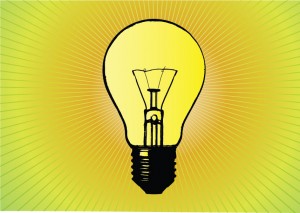 Here are some ideas in key trade show areas:
Promotions:
1. SAVE TIME: Can you find a promo that works across multiple shows, so you don't have to create, source and buy a promo at every trade show?
2. INVEST TIME: Take time to define your buyers' demographics – age, gender, mindset, occupation. Get into their head, get promotions they will crave, and then they'll be more people in your booth every show.
Lead Management:
3. SAVE TIME: Qualify the leads in your booth, so you don't have to take the time after the show. Only send the sales ready leads to sales.
4. SAVE TIME: Get a lead retrieval machine that scans the badges of attendees. That way you don't have to write down their contact info if they do not have a business card. You can also get an Excel file after the show that has all the lead data in it, so you can import it into your contact management system without having to re-type your leads.
5. INVEST TIME: Create a closed-loop lead system that quickly gets your trade show leads in the hands of your sales force, and then lets you easily measure how well the leads converted. You'll gather essential info for judging shows and reporting to management.
Booth Staffing:
6. SAVE TIME: An hour before the show, do a pre-show meeting in the booth to review booth staffing basics and what staffers need to know about that specific show. Then appoint a veteran staffer to review the basics with inevitable staffers who show up late, so you can focus on other last minute booth details instead.
7. INVEST TIME: Measure how many qualified leads each staffer gets per show, or even per hour they staff. Then you know who would make the best staffers at upcoming shows. You'll save time recruiting for staffers, and you will get many more leads per show.
Exhibit Design:
8. SAVE TIME: Get a display that is faster to set up and tear down. That way you can arrive later at the show, and leave the same day the show ends, saving a day or two.
9. INVEST TIME: Figure out what really separates you from your competitors in the eyes of your best buyers, and make that as explicit as you can on your exhibit graphics. Make it very clear what products and services you offer. That way, your exhibit will help filter visitors, so only more qualified leads walk into your booth, and you waste less time with unqualified prospects.
Show Selection:
10. INVEST TIME: Track your sales from each show, and then rank them by their return on investment. Leave the shows that are at the bottom of the list, especially if they are not profitable and serve no other valuable marketing goals. Now you do less shows.
11. INVEST TIME: Call 10 or 20 of your best clients, and ask them what shows they go to as attendees. Are these the same shows you exhibit at?
12. INVEST TIME: Ask your top management what are their marketing goals for the year, and next few years. Do the shows on your trade show schedule enable you to meet those goals?
You only have one chance to make a first impression. Compex Display listens to your needs, understands your goals and then builds trade show displays that allow your company brand and marketing message to stand out from the competition. We offer custom portable exhibits and custom modular displays in a variety of styles and configurations and trade show accessories—like furniture, hanging signs, flooring and pop-up displays—that provide an effective and efficient exhibit environment.
All of our exhibit displays are made of the highest quality materials and include sturdy cases that protect your investment. Check out our collection of exhibit rentals and accessories.
Nervous that perhaps your trade show program suffers from Attention Deficit Disorder? Well, it's certainly possible.
Usually it's sales and marketing people like us who manage our companies' trade shows, and we're notorious for having more than a touch of A.D.D. Marketing people need that endless curiosity that sparks a creative marketing ideas and sales people are known for doing whatever it takes to get the sale – and then going on to the next sale before all the details are nailed down on the first one.
However, A.D.D creates a distinct downside to your trade show effectiveness, in many aspects of your trade show program.  Let's look at some of the symptoms:
Show Selection: With A.D.D., your team rushes to add shows to the company show schedule, without a consistent process to evaluate and prioritize new shows.  Plus, extra shows strain your limited resources to do well the shows you already committed to.
Booth Staffers: Most companies prefer to use their sales people as booth staffers.  That works well when your sales people are focused and motivated to achieve ambitious personal goals for qualified lead counts. But an A.D.D. staffer that gets antsy after just 30 seconds of not talking to an attendee is going to start talking to another booth staffer, and let potential booth visitors walk right on by.
Exhibit Design: The enemy of brand consistency?  An A.D.D.- trade show exhibit design approach that changes messages, colors, images, and style, show after show.  After several years of that, you have created brand confusion with your target audience, and you may even have a fleet of exhibit assets that don't match each other, let alone your other marketing assets such as your website, ads, and brochures.
Budget: When you are too busy zigging and zagging in your A.D.D. world, little things like deadlines go sailing past under the radar.  Unfortunately, those missed deadlines ring up surprisingly higher fees on show services, shipping, hotel, and airfare.
Promotions:When A.D.D. trade show marketers wait until the last minute, they run out of time to do pre-show or at-show promotions, which require weeks, even months to ideate, plan, source, and deliver.  And without doing promotions, exhibitors get fewer visitors to their booth, reducing their program's results and ROI.
Lead Management: When your trade show program is ruled by A.D.D., your team can't stay focused long enough to finish the show, by getting the leads fulfilled and assigned to sales.  So all your investment and effort may sit in a small pile on the end of someone's desk, while potential customers are turned off by your lack of follow-through.
Lower ROI, higher costs, missed leads and sales, and a tarnished brand. Those are some very real and significant outcomes when your trade show program suffers from Attention Deficit Disorder.
So, what's the cure?  Make sure there is a strong, detail-oriented person on your team who is well-versed in the marketing strategy and tactics of trade show success, while also driven to follow up on the myriad of details necessary to pull it off.  And respect their pleas to make a commitment and make a decision when they say time is running out!
To stay competitive in their specific industries, a number of business owners rely on their trade show exhibits to generate continued customer interest and to showcase how their companies stand above others in the same niche. As the new trade show season is starting, many are evaluating their current approach to exhibiting at one or more of these shows. In order to have a top-notch trade show booth, preparation typically starts months ahead of time.
Owners and managers are looking at the hard numbers from past years and considering how they can possibly bring in more sales revenue to surpass the initial expense of a trade show display. Revamping a set of banners and backdrops is one proven way to attract more interest from trade show visitors, and a new display will send the message that a company is up to date on current trends for marketing and promotion.
For interested business owners planning a new trade show display, the first planning stage involves looking at how well a booth design and layout fit with the company culture. Marketing messages also play a big role in the final exhibit's appearance and overall set-up. Elements to plan and select include banners screen-printed with photos, graphics and company logos. For clients who have questions about where to start with a new exhibit, consulting a professional trade show booth designer can help with these early planning stages. Consultants offer suggestions for banner displays that will fit with each customer's type of business, trade show budget, available floor space and specific marketing goals.
Business owners choosing custom banners first need to select the sizes and types they want to order, and then they can upload their artwork to a banner designer's website. Popular options for finished banner stand kits include straight, curved or tension fabric banner displays. Some upcoming niche trade shows include electronics, home improvement, publishing, travel and real estate. Each of these can benefit greatly from the visual advertising of exhibit booths with

For any small business, trade shows can provide an effective means of spreading brand awareness, getting your product out in front of a target audience and meeting with current or potential clients. But there's much more to it than reserving your space and signing on the dotted line.
While preparing to attend any show, consider these 10 key questions to ask before exhibiting:
1. Why am I participating in this show? "There really has to be a why," says D.J. Heckes, CEO of trade show management company Exhib-it and author of Full Brain Marketing.
People sign up for a show for a number of reasons: It can serve as a launching pad for new products or concepts, a way to build up your brand and distribution, a means of nurturing relationships or even a place to position your company for sale.
Once you nail down a clear motive that aligns with your business strategy, reach out to customers and find out if they are attending and if the show fits their timing and needs.
2. Am I organized for the show? Preparing for a show well in advance can save you both time and money.
For example, if you sign up early, you can take advantage of discounted rates, which can be considerably less than prices charged within 60 or 30 days of an event.
On the other side of the spectrum, if you are disorganized, you may incur additional costs. One instance where you might get penalized is if you forget to bring something and need to have it delivered to the show. You not only will have to pay for shipping and handling but the show may slap on hidden costs.
You can be surprised at the add-on costs if you don't meet certain deadlines," Heckes says. "If you follow a budget and a timeline, you won't forget things."
3. How much space will I need? While it's nice to have a large footprint on a trade show floor, those who can't afford it shouldn't worry, says Michael Brody-Waite, CEO of InQuicker, a health-tech company focused on connecting consumers with services.
Brody-Waite's approach is to invest in a simple booth presentation and then doing everything he can to capture contact information and follow-up with these leads after the show. For him, it is more about these meaningful connections, conversations and ability to covert prospects to actual customers than the complexity of a booth.
"The way we look at it, if we can't have impactful conversations with a single booth space, simply adding more real estate probably isn't the right solution," he says.
4. Does it matter who my neighbors are? Absolutely. But how you view your neighbors is where views diverge.
Maureen Burke isn't a fan of being placed next to a show-stopping booth. The senior account director at Nth Degree, an event marketing and management company, warns against having your small booth next to an extravagant presentation (think lots of signage and activity). This kind of placement can distract potential customers from your message and products.
"You're not just competing against other companies who make the same product, but everyone who is exhibiting there," she says.
However, Brody-Waite has a different perspective. He likes to secure a booth near flashier ones that will likely attract a lot of foot traffic. If another company is doing the heavy lifting to get people in a certain area, why not capitalize on it, he says.
Trade Show Countdown
*6 to 12 months out: Begin planning your budget, selecting what trade shows you will attend and booking booth space
*4 months out: Work on show objectives, obtain and exhibitor manual and source your exhibit design and production
*3 months out: Establish booth work schedule, set up any required outside suppliers and plan printed marketing materials
*6 to 8 weeks out: Check on production of display material, order product samples and literature, confirm pre-event advertising and press releases and order necessary show services
*3 to 4 weeks out: Write and mail customer invention letters, finalize VIP guest events, confirm shipping information and provide to suppliers and prepare training materials for staff for show
*1 to 2 weeks out: Collect supplies, tickets and service orders sent to show and ensure your payment system is setup and ready to accept credit cards during the event
*Day of show: Pick up badges, confirm arrival of display, equipment and literature, supervise set up and conduct pre-show briefing with outlined goals to staff
"As a young company, we can count on any number of booths having better production value than ours, even if they belong to our competitors, he says. "It's just another opportunity to be enterprising."
5. Should I sponsor events in conjunction with the trade show? Brody-Waite believes in attending trade shows not only as an exhibitor, but also as a sponsor or presenter, as it affords the best opportunity to inform and educate an audience.
"We keep a calendar of speaking opportunity deadlines and make sure to pitch fresh, relevant session topics every year," he says. "Speaking and exhibiting at a trade show is the ultimate one-two punch, as it maximizes your budget to get in front of as many people as possible."
6. Who am I targeting at the show? A show might have tens of thousands of attendees trekking through the event but participants need to figure out who specifically they are targeting and how they plan on reeling them in. Some companies get stuck on the number of people who stop by the booth, instead of looking at whether they are qualified buyers of your goods and services.
"Are you looking for 1,500 basic leads or 200 well-qualified leads? Are you looking for shallow and wide exposure or narrow and deep?" Burke of Nth Degree says.
By qualifying the type of people you hope to reach, you can plan your presentation more effectively.
7. How am I going to measure my attendance and presence at the show? In addition to counting leads, it's important to measure marketing impressions at the show. Just like you can see how many people view an ad in a magazine, you want to know how many people are viewing your marketing materials like signage on the show floor. Burke suggests working with the show organizer to get numbers.
For example, if your signage is at the front of an entrance on the west side, find out how many people entered the show floor from that door. This can help you plan for future shows and decide whether they're worth attending.
8. Am I familiar with the host city and venue? When you're planning to exhibit at a show, it's important to know about the city you're visiting, as well as the rules and regulations of the convention center, including the associated unions and contractors.
"Not only is this going to affect your budget but also how you meet deadlines," Burke says. "Going to Orlando is totally different animal than going to San Francisco, Chicago and other union-driven convention centers."
9. Have I backed up my presence through social media? Keeping your customers informed about your company's activities before, during and after the trade show is crucial, Heckes of Exhib-it says. In addition to sending out a press release, you can post tweets about why people should come see you at the show. Possible incentives include a new technology, a prize drawing or a gift for stopping by.
Other relevant social media efforts can include blogging from the show floor, making regular updates on Facebook and posting videos of customers visiting your booth on your website.
10. Do I have a post-show plan? It takes a lot of money to plan and exhibit at a show. Don't let all your effort go to the wayside by not being active after the event is over. In this competitive world, if you don't respond to leads within two or three days, your competitors will," Heckes says She recommends having a sound plan for following up with people immediately after the show is over. If you have an app where you can send out information in real time at the event, all the better.
"If you wait two or three weeks, you've missed your window," Heckes says.
First time exhibitors can find themselves in a bind when they don't fully read the "Exhibitor Rules and Regulations" document published in the respective trade show kit.
The physical logistics of exhibiting at a trade show are often left until the end of preparation and then completed in a hurry.
Start planning the physical side for your shows at least nine months in advance. Before registering to participate as an exhibitor you should understand that the fee to rent a space is a small part of the overall cost of the show. As an exhibitor you should determine how many shows you can afford to attend over the course of a year. Download and read each show's rules and regulations before registering and understand the requirements of each show.
Questions that you need to have answered for each and every show include;
1) Do I need to supply a physical booth structure within my rented space? Some shows use pipe and curtain backdrops and other show organizers insist that a complete stand-alone booth (back and sides) must be used and are not supplied.
2) How tall can the booth be within my allotted space, at the back, sides, and front of the space?
3) Will the booth space be carpeted or do I have to supply my own flooring?
4) Do I need to purchase utilities for my booth such as water, electricity or even fuel for cooking?
5) What security is available before, during and after the show? Do I have to pay for security?
6) Am I allowed to set up my own booth and when can I begin)
7) How long after the show do I have to remove the booth?
8) How am I going to transport my booth to the show sites?
9) Will I need accommodation for the duration of the show?
Based on answers to these questions you can begin to develop a budget for each show. The physical cost has to be tallied before you can begin designing your booth layout.
Once you meet the physical needs you can start addressing the 'wants' for your booth.
Using the same product line for all of your display sings lends a professional look to your business.  Check out our Concurva, Linea, and AeroLinea product lines for all of your display needs.  From item identifiers (business card size) up to our floor stands (22″ X 28″ poster size) all three of our product lines give you a consistent professional appearance for your display needs.  Greet your guests, direct your clients, inform your customers, all with Visual Display systems from Compex Display.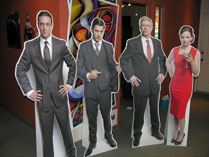 Recently one of our customers ordered 4 life sized cut-outs. Digitally printed on foamcore and custom cut with stands.
Very mob-like but striking!
At Compex we specialize in large format printing using the Arizona 250GT Flatbed. Our printer produces near-photo quality prints onto rigid and flexible media for sign and display graphic applications. 3 year outdoor and with lamination we can extend the life to 5-7 years. See our Custom Sign Menu for completed examples.